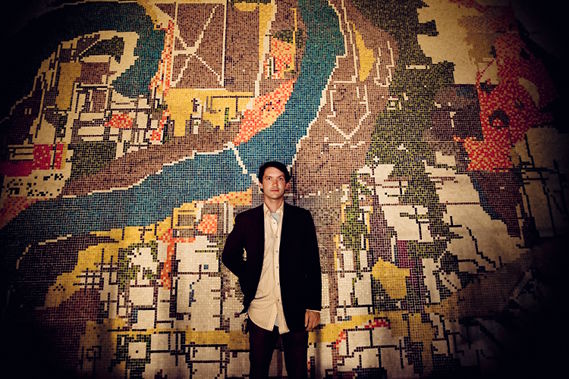 Wednesday night Rickey and I braved the crazy snow and ice to go see Tim Kasher at Off Broadway. Tim Kasher, frontman of Cursive and The Good Life is one of the coolest guys around! Cursive has been my favorite band for the last 5 years (wow! that's longer than I realized!) Sophomore year of high school my best friend discovered and fell in love with Bright Eyes. I'll never forget us going to Vintage Vinyl and her picking up their cd. On the way home she was looking through the cd booklet and told me she didn't think I would like them because there were so many people in the band. Haha, weird assumption to make, right? I never understood that. But I did prove her wrong and enjoy the music of Bright Eyes. After that we decided to check out more of the music on the Saddle Creek record label. That's where I discovered Cursive! (Among others like Rilo Kiley!) And we've been in love ever since.
Before going to the show the other night I did some googling to see what his set list would be like. From all of the lists I found it looked like he'd play almost all of his new album and then either one Cursive or one Good Life song. That seemed cool, but I was hoping for more oldies. Much to my surprise he played a couple songs from both bands plus his new stuff. It was such an awesome show!
I'm not usually into sticking around to talk to the musicians after they've played. I never know what I would say or what I would do, but it just sort of happened this time, thanks to all of the PBR's I was sipping on. I excitedly and nervously walked over to him told him I love him, he's awesome, asked why Cursive wasn't coming to St. Louis for the Domestica anniversary show and finally what happened to Gretta, the cellist (that hasn't been in the band for like 4 years! What was I thinking??!) OH! And I hugged him! It's so weird to meet someone you admire, even though I said something sort of silly I'm still glad I did it!
If you guys haven't heard any of his work yet I HIGHLY recommend it.
Of course I didn't have a camera and didn't get any photos of the night, but there are some I found so you could see his cute face.
Have you guys ever met someone you really admire? Tell me about it!
P.S. Thanks so much for the sweet words about blogging more! I'm really hoping that after the new year work will slow down and I won't have to be there quite as much meaning more time to be here.